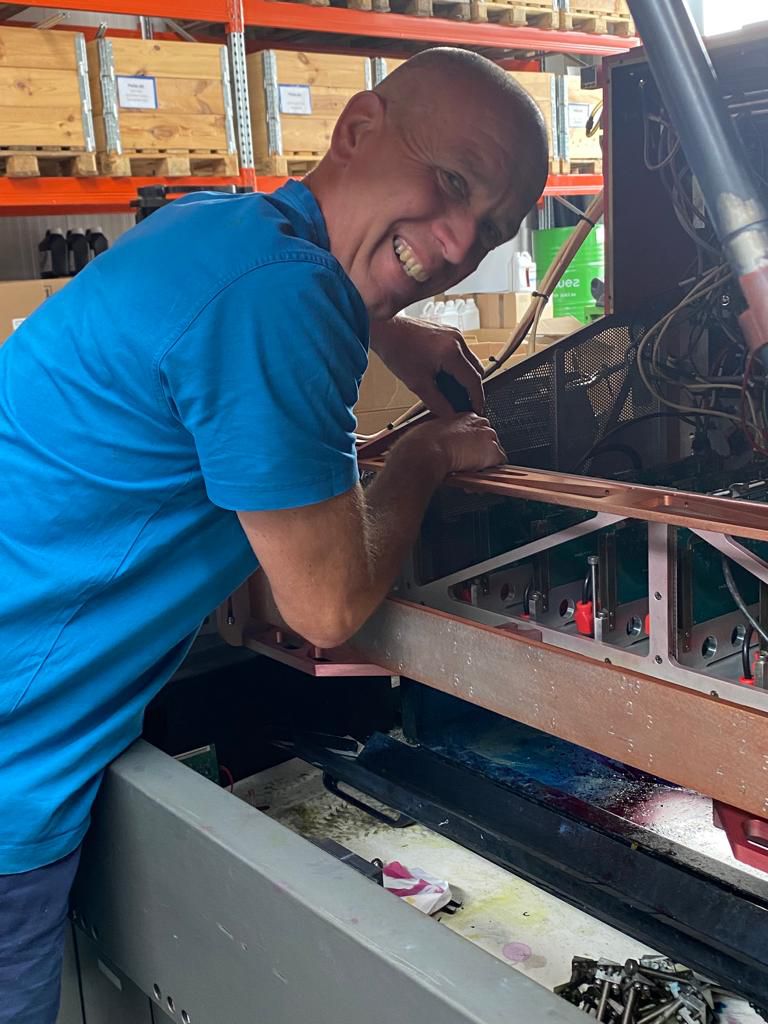 Your machine, Our care
How much money could you save by a maximum availability of your printer and extending its life span?
Choose for our Machine Care Program, custom-made for your machine and receive at least three preventive maintenance visits per year.
Within this package you will also receive the necessary spare parts, a detailed technical maintenance plan and preventive advice on any urgent work, all for an affordable monthly amount.
We will need the technician back though...
Keep your machines running, keep your business running
Due to high production loads you tend to forget to maintain your machines. Although they make your business running.
At Digital Dot, we'll remind you of your periodical maintenances. We'll contact you in advance to schedule a suitable date. After the maintenance we fix the next date, depending on the production level of your machines.
Have a look at what we plan to do during these visits
Ink System

- Full ink system inspection
- Main filter replacement
- Machine Cleaning
UV Lamps

- UV Lamp check
- UV Light Shields Replacement
- Software install/update
Media Transport

- Belt Maintenance
- Head Height check
- Carriage/Jet Alignment
Mechanical

- Check all compartments
- Grease rail / bearings
- Encoder alignment

Get what you pay for!
Digital Dot sets herself apart from the manufacturers' standard models by offering your business
a greater protection and financial flexibility.
With a minimum of three on-site visits a year from our experienced technicians,
your machine is well monitored and possible breakdowns can be avoided.
Our promise
Reliable
Preventive maintenance anticipates unpleasant surprises such as malfunctions or downtime.
Maximization
A longer life for your equipment as well as working more effectively with your machine.
Continuity
Our experienced technicians check and clean on a regular basis and according to a predetermined schedule your machine, with a minimum of 3 visits per year.
Custom-made
A specific maintenance program was carefully developed for each type of printer.
The Machine Care Folder
A 'diary' of your machine with detailed technical reports of each visit as well as daily and monthly maintenance charts.
Transparency
We leave no room for surprises with a very clear contract. Furthermore you will be able to access online our system to have a full overview of all that has been done on your machine.
Learn about the benefits of our Machine Care Programs
Please leave your details